Lake Havasu City, AZ – In 2017, Isaac had his first Airbnb experience. It had always been his dream to travel across the country, so he drove from Rochester, New York, to Phoenix, Arizona.
"When I first started using Airbnb, it was a brand new experience. A guest was primarily renting rooms out of people's houses," says Isaac. "At the time, it was generally $30 to $40 a night, and it opened up a whole new way for me to be able to travel affordably."
Once Isaac got to Phoenix, he met Kim at a meetup sand volleyball group and asked if she wanted to travel to Sedona with him. They stayed at their first Airbnb together and were able to visit their first National Park, the Grand Canyon.
Soon after that, they took their second trip to a bunkhouse Airbnb with no electricity in the middle of nowhere to visit their second National Park, Bryce Canyon. "I'll be honest, Kim was pretty nervous about staying," Isaac remembers. "But when we got there, the place was so well designed and comfortable. We had a blast! It was then we decided we wanted to start our own Airbnb!"
After visiting Bryce Canyon, Isaac realized how unbelievably epic every single National Park is. So, they started on their quest to visit all the National Parks in America.
"We started taking three to five-day road trips every month and visiting National Parks or cool things in the area. But we knew, to travel full time, we needed to create real financial freedom," he says. 
Isaac had been an entrepreneur for over 8 years at that point, so he launched a business focused on helping local businesses market themselves. Within eight months, Kim was able to leave her full-time job, where she was living paycheck to paycheck, and join the business. "Once we were able to pull Kim out of her traditional 9 to 5 and have her working full time, that was when we could really start traveling," he says.
Since then, they have been traveling full-time for more than five years, primarily living out of Airbnbs. Currently, they have over 80 five-star reviews from hosts on Airbnb and have stayed at over 100 Airbnbs across the Nation.
In 2022, they visited their 46th National Park out of 63 countrywide. They have also summitted over 50 mountains, including the second tallest in the 48 states, Mount Elbert, at 14,440 feet!
After traveling for some time, they gained such an appreciation for Airbnb, so they decided to launch their first Airbnb to give back to the community. Having stayed at so many Airbnbs, they knew there was so much they could do to make their Airbnb one of the best experiences out there.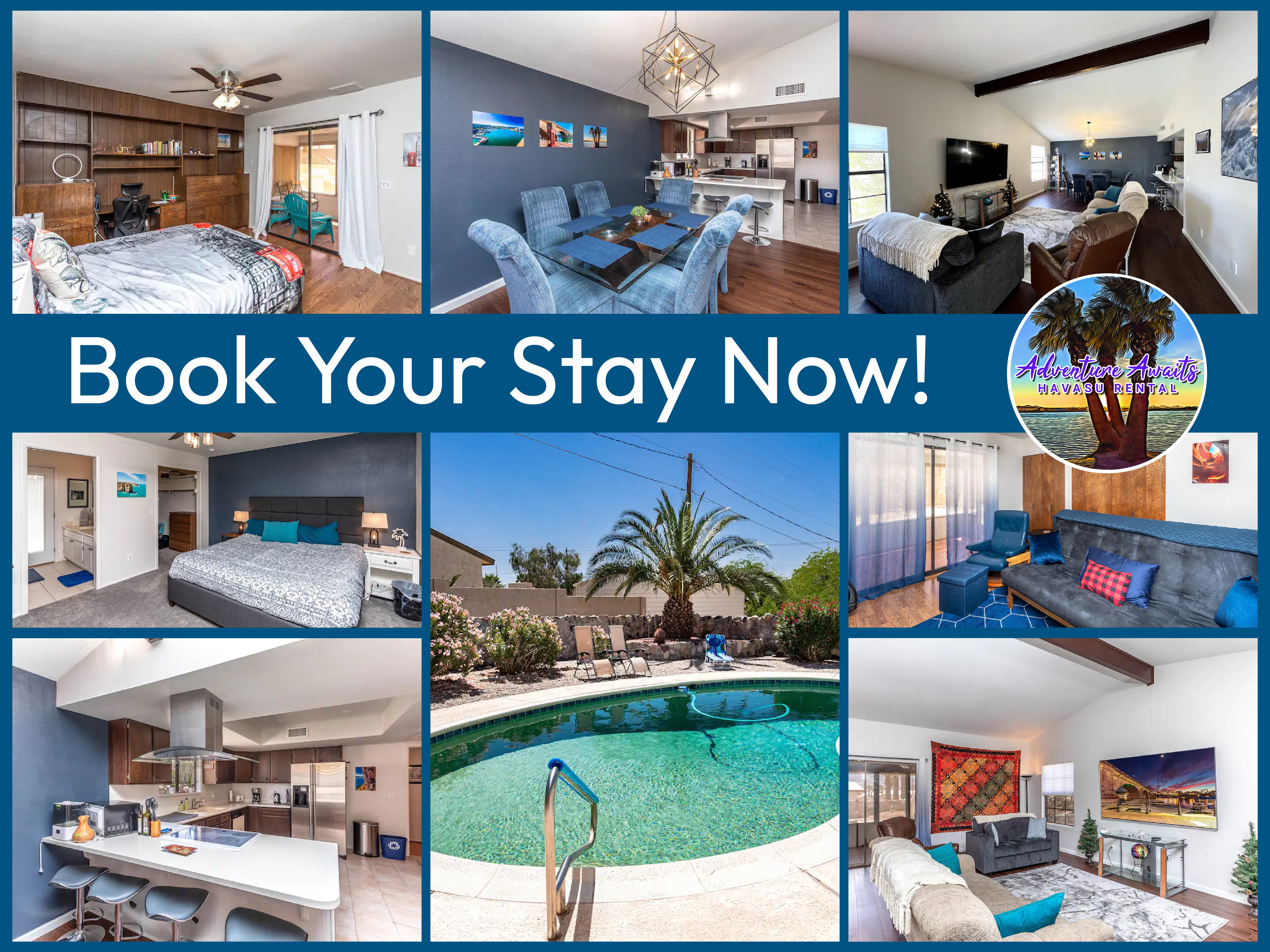 "One of the things I really loved about Airbnb initially was the uniqueness of every stay. Every place has its own charm, art, and new things that a guest would never see elsewhere. Since Airbnb has recently transitioned into more absentee owners where guests are renting the whole place, guests don't get to see that as much, so we wanted to create one of the old-school Airbnb experiences. We have incorporated some extremely unique things into our Airbnb, including our own photography and artwork throughout the place and a one-of-a-kind quail obstacle course. This is something guests won't see anywhere else."
This unique vacation rental, located in Lake Havasu City, Arizona, is a 3 bedroom 2 bath house with a private pool, Quail Obstacle Course, vaulted ceiling in the grand room, and an epic 86-inch television.
Other necessities they feel are important for guests are comfortable beds, supportive furniture, and fast internet connection with many desk options for anyone who needs to work. They even made sure there is plenty of space for boat parking and other 'toys.'
"Lake Havasu really interested me because I first learned about the London Bridge in Lake Havasu while I was on the Tower Bridge in London. Someone told me that the original London Bridge had been shipped to some place in Arizona and all these boats would party under the bridge," Isaac says. "One day, after I moved to Arizona, something clicked: Didn't someone tell me the London Bridge is somewhere in Arizona? So Kim and I went on a quest to find it. When we got there, the first thing we did was stop at Scotty's Broasted Chicken, got chicken to-go, drove across the bridge, and sat on the island where we watched one of the most beautiful sunsets we've ever seen. From that moment, we knew we wanted to have a place in Lake Havasu and turn it into an Airbnb so others could experience this extremely funky and magical town."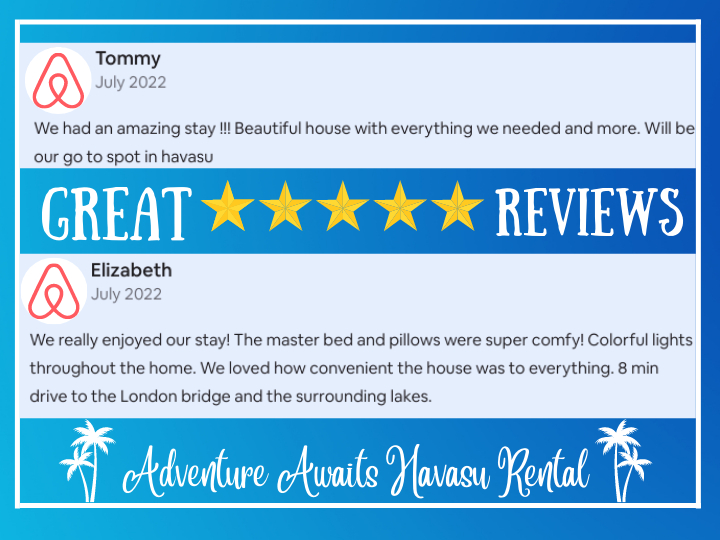 To look at pictures, learn more, or book a stay, visit one of the best Airbnbs in Lake Havasu. "We're excited to have guests stay at our place. After staying at over 100 Airbnbs, we truly believe that we've been able to create one of the best Airbnb rentals. Not only will it be clean, comfortable, and fun – with several wow factors, but it'll also be one of the most unique places guests have ever stayed at."
While guests are staying at Isaac and Kim's place, it's likely they're continuing their quest to visit all 63 National Parks in America. They're honored to say that their company was able to help hundreds of locally owned businesses survive and thrive during the COVID-19 Pandemic. They also donate their services to not-for-profit organizations every year to help them improve their online presence.
"We hope our guests have an incredible time at our Airbnb. We're so grateful to be able to give back to this incredible Airbnb community that has allowed us to explore and travel like never before."
Enjoy an Airbnb stay like no other with Adventure Awaits Havasu Rental. For more information or to book a stay online, visit their website: www.adventureawaitsrental.com 
Media Contact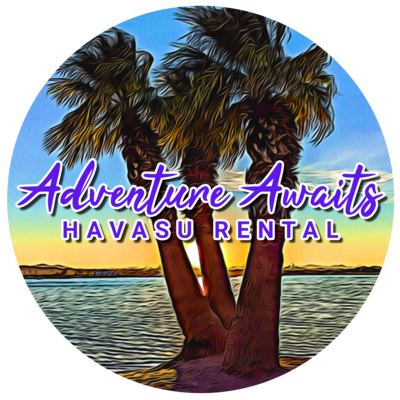 Company Name
Adventure Awaits Havasu Rental
Contact Name
Isaac Navias & Kim Coates
Phone
(928) 235-5243
City
Lake Havasu City
State
Arizona
Postal Code
86406
Country
United States
Website
https://adventureawaitsrental.com/